New Mexicans to Know: Frankie Hermosillo wants to be an ambassador for the New Mexico Angels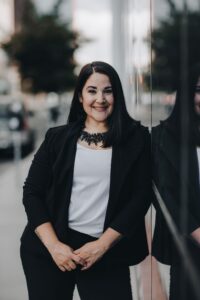 Frankie Hermosillo is an ambassador of sorts for New Mexico, and Albuquerque more specifically — so much so that she's inspired several acquaintances to pick up shop and relocate to the Duke City.
Much of Hermosillo's ambassadorial work over the past decade and a half has been in the realm of commercial real estate. She's held sales, marketing and strategist positions at firms like Colliers International, RIO Real Estate Investment Opportunities and, most recently, NAI SunVista, since the early 2010s.
But a little over a month ago, she's taken those marketing skills into the world of venture investment as a development associate at New Mexico Angels, an angel investor membership organization founded near the turn of the century.
Drew Tulchin, a venture capitalist with previous experience that includes leading investments for Santa Fe immersive art and entertainment company Meow Wolf, heads up the angel membership organization as its president, and it also recently brought on Tatianna Pavich as its director of business operations, another professional with Meow Wolf experience.
Hermosillo's goal with the New Mexico Angels, in her own words, is to help expand the organization's membership and sponsor bases — to be, in a sense, an Angels ambassador.
Albuquerque Business First recently sat down with Hermosillo to hear about how her time with the Angels is going so far and more about her goals for the long-time New Mexico venture organization.
Read the full interview here