Celebrity partnership latest piece of traction for this Albuquerque apparel startup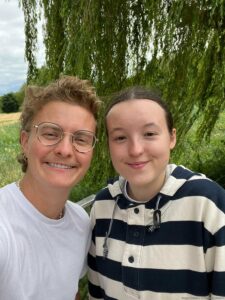 An apparel company and brand with Albuquerque roots that makes "queer by design" clothing is hitting stride thanks to recent marketing traction — including a partnership with a television celebrity and some national media recognition.
Both&, the apparel company and clothing brand, sells clothes for transmasculine and non-binary people. Although its design and marketing team are based in New York City, the startup is headquartered in Albuquerque, where it was founded by former University of New Mexico student Finnegan Shepard in 2020.
Momentum has come fast for the startup since launching. It closed a $1 million seed investment round last fall and in April grabbed a spot among this year's New Mexico Inno Innovation Awards honorees partly because of a '90s-inspired marketing campaign it launched in late March.
And this month, that growth has accelerated further. On July 24, Shepard, Both&'s CEO, announced a marketing partnership with nonbinary actor Bella Ramsey for a photo and video campaign — called "Both&Bella" — on behalf of the Albuquerque apparel company.
Ramsey catapulted into celebrity status this year by playing the fictional character "Ellie" on the hit HBO drama series "The Last of Us," earning their first Emmy Awards nomination for the role. Ramsey also starred in another HBO drama, "Game of Thrones," and in June came out as non-binary.
Both& ran a week-long competition to find models for that photo and video shoot in collaboration with Ramsey, which closed July 31. It's the startup's first major celebrity partnership, Shepard told Albuquerque Business First.
"We are honored to be working with Bella on it, and feel that they are the perfect celebrity, as we share a vision for more joyful and lighthearted narratives around transgress and nonbinary identity in the media landscape today," Shepard wrote in an email to Business First.
Read the entire article, and see the entire slideshow, click here