BabyQuip and Ubiqd named one of the fastest growing companies in New Mexico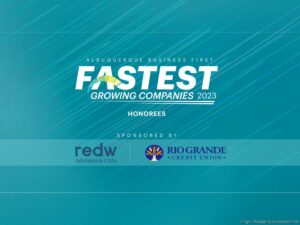 Company growth is an accomplishment. But to see sustained growth over a multi-year period, that deserves recognition.
Each year, Albuquerque Business First does exactly that via its Fastest Growing Companies Awards. To be eligible for this annual accolade, New Mexico companies had to experience overall revenue growth from 2020 through 2022.
Companies were identified via a public call for nominations and Business First's accounting partner, REDW, then crunched the revenue numbers to see who qualified.
Honorees are broken into three categories: more than $10 million in revenue; $5 million to $10 million in revenue; and less than $5 million in revenue. Business First will not publish or disclose specific revenue information. Only the growth percentage provided by REDW will be made public.
The exact growth rates and company rankings in each category will be unveiled at a special ceremony on Thursday, Sept. 21, at 11 a.m. at the Embassy Suites by Hilton Albuquerque.
Read the entire article, and see the entire slideshow, click here