Newly appointed NM Angels chairman says these are the sectors he plans to target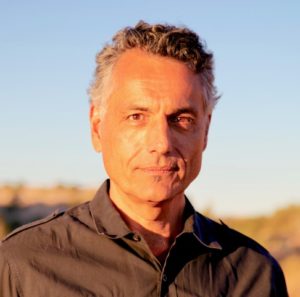 By Jacob Maranda – New Mexico Inno Reporter, April 12, 2023
The term "brain drain" is frequently heard when people talk about New Mexico. Hearing "brain gain" is less common, but there are some notable examples of smart, high-achieving people who have relocated to the Land of Enchantment — including David Perez.
In late March, New Mexico Angels, a nonprofit angel membership organization, named Perez as its chairman of the board of directors. He presides over the organization's 16-person board, which includes entrepreneurs, organization presidents and educational leaders from across the state.
Perez moved to Santa Fe from New York City in 2009. He got his start in venture capital in the Big Apple, founding and eventually selling a Hispanic consumer digital marketing agency called Latin Force.
He continued that work in the Land of Enchantment. Here he founded Seamless Medical Systems, a patient check-in and medical practice efficiency platform, in 2011.
He sold that company in 2017 before taking over as CEO of The Santa Fe Group, which he also helped lead the sale of in 2021.
It's the challenge and creativity behind starting and growing a company, Perez told Albuquerque Business First, that has kept him tied to the world of startups and venture capital.
Business First caught up with the new chairman to hear where he wants to help take the New Mexico angel membership and startup support organization, as well as some opportunities — and challenges — faced by startups in the state.
The interview has been edited for brevity and clarity.
Albuquerque Business First: As someone who came here from New York, do you see any sort of competitive advantages that startup companies in New Mexico have as opposed to companies in different parts of the country?
David Perez: When I started Seamless Medical Systems, I thought it was a great advantage to be here because we were able to create something that no one had done before in an environment that didn't have a lot of outside noise and distraction. When I was in New York I was part of the startup scene, and there's so much activity, so many people, so many VCs that it's distracting, honestly.
Also, in New Mexico, you can meet, as an entrepreneur, anybody in the ecosystem. The environment and the culture we have here is very open and very welcoming. That was definitely different than New York, where it was very challenging to meet and get to know people there.
On the flip side of that, are there unique challenges that you see for startup companies in New Mexico?
The isolation cuts both ways. I had experience already raising capital, so I was comfortable doing that. I had learned in New York. A few of the challenges here are first-time entrepreneurs having the opportunity to learn. And two, is raising capital in general. When I first came here, there were a lot fewer venture-based and early-stage-based funders. We have more now, but the challenge is raising later stages of capital, like Series B.
I see that starting to shift, where we're getting larger capital pools that are now looking at New Mexico.
With NM Angels, specifically, what is your goal with the organization as its new chairman, and what kind of role do you think it can play in meeting some of those challenges you identified?
What I think is so interesting about the NM Angels is that we are at the center of the startup ecosystem. We have great advisors in our members and investors. I think where we see the Angels going in the future is to continue to expand our footprint through more members and building out that network, providing more mentorship and training to early-stage entrepreneurs and building the capital stack that we can provide to those entrepreneurs.
I want to open up the Angels, too, because some of these companies come from the labs, so there's great potential to grow that. Also renewable energy, we're going to be leaning into that more — particularly green hydrogen production. We're looking for more green hydrogen-type companies. And also in the film production area. We want to bring in support businesses and ancillary companies in film and television production, and include that in addition to the biotech, the medical instruments, space and deep tech that we've been seeing a lot of businesses in.
Read original article here