Parting Stone settles into new reality after 'Shark Tank' appearance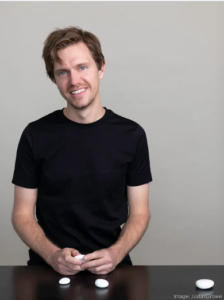 About four months on from his appearance on the hit investor TV show "Shark Tank," the CEO of Santa Fe-based death care startup Parting Stone said his company has seen a "general increase in everything" across the business as it enters what he called a "new normal" for the startup.
Justin Crowe, Parting Stone's CEO, landed a $400,000 investment from two sharks, Kevin O'Leary and Lori Greiner, for a split 10% equity stake during an April 7 episode of "Shark Tank." The deal included a $20 royalty on direct-to-consumer sales and a $12.50 royalty on business-to-business sales until $400,000 is paid to Greiner and O'Leary.
That deal, and the publicity that came with Crowe's appearance on the TV show, has boosted Parting Stone's business across all fronts, including business-to-business sales and new corporate funeral home partners, Crowe told Albuquerque Business First. The startup makes solidified remains from the ashes of deceased people or pets by partnering with funeral homes or receiving orders directly from families; its website lists a price of $2,495 for an order of solidified remains of a person.
One example of Parting Stone's recent growth is its direct-to-consumer sales; Crowe told Business First the startup has seen a 100% increase in monthly direct-to-consumer sales since the episode aired. Landing deals with more corporate funeral home companies has been another boon for Parting Stone's business.
"Two-thirds of the funeral home market is pretty fragmented by family-owned businesses," Crowe said. "Which we love, but as a business, it's hard to expand one funeral home at a time.
"What 'Shark Tank' allowed us to do is get the attention of some of these larger corporations, which allowed us to grow by 50, 100, 200 funeral homes at a time with some larger partners," he continued.
The Santa Fe startup was also featured on a re-run episode a couple of weeks ago, which Crowe said gave another boost to Parting Stone's business.
New funeral home partners, direct-to-consumer expansion and re-run publicity are all part of what Crowe called a "new normal" for Parting Stone almost half a year on from its 'Shark Tank' appearance.
Crowe founded Parting Stone in 2019. The startup operates out of an 8,000-square-foot laboratory in Santa Fe.
Read the entire article here
Correction/Clarification
A previous version of this article stated Barbara Corcoran was one of the investors. That was incorrect. Lori Greiner joined Kevin O'Leary to invest in Parting Stone.