Watch Tutor Tuesday "Go to Market" with John Rizzo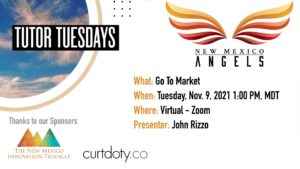 Rewatch our November Tutor Tuesday!
Tutor Tuesday is a monthly virtual educational session for investors and all those interested in angel investing. This month's presenter was John Rizzo, who has 35+ years of experience guiding some of the world's most successful technology companies through start-up phases, major product launches, branding and marketing campaigns, rapid growth, acquisitions and IPOs.